Join Us This Summer. Grow WIth Us.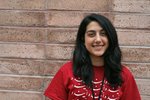 "I don't know what life would be like if I had never gone to Camp Ayandeh. It's really been an important part of my entire life." - Roshan Alemi.
Going into its 7th year, IAAB's Camp Ayandeh has been a driving force in impacting the lives of numerous young Iranian Americans across the country.  Watch Roshan Alemi, who has attended 6 years of IAAB's Camp Ayandeh, tell her story on IAAB's YouTube Channel.
This year, IAAB has also started Camp Javan, a Middle School Leadership Camp for Iranian Americans. Modeled after Camp Ayandeh, Camp Javan will be a powerful experience for our community's youth. Camp Ayandeh and Camp Javan will be held in Los Angeles, CA for the first time. Ayandeh will be from July 3rd to July 11th, and Javan from July 16th to July 20th.  Please click here for more information.
Join us this summer. Grow with us @ IAAB's Camps!
Watch more on IAAB's YouTube Channel.